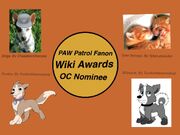 Zap is one of the members of the CLAW Patrol. They used to protect Adventure Bay. But now they wish to destroy the island. Zap has weather powers. She is black and her outfit is similar to Rubble's except it's Blood Red. Zap is very opimistic and agressive. She always finds herself in an arguement with Frosty about their evil plans and deeds to destroy Adventure Bay.  
Zap's powers:
Perfect Storm
Electric Rage
Hurricane Paws
Ad blocker interference detected!
Wikia is a free-to-use site that makes money from advertising. We have a modified experience for viewers using ad blockers

Wikia is not accessible if you've made further modifications. Remove the custom ad blocker rule(s) and the page will load as expected.