Vivica is a poodle and the only female of [[The Bullies|The Bullies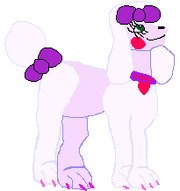 ]]
Fanon Appearances
Edit
Vivica is one of the bullies that pick on the PAW Patrol. Even though they always get what they deserve, they continue to bully the pups. She prefers picking on Chase and Skye, but avoids Penelope after she defended her friends.
Personality
Edit
Vivica is actually the nastiest dog of the bullies. She's snooty, arrogant, and commonly refers to herself in third-pup. She always has a demanding attitude and is spoiled by her owner Francine, who is unaware of her actions. She always finds a way to tease Skye and Chase whenever she has the chance.
Appearance
Edit
Coming soon
Ad blocker interference detected!
Wikia is a free-to-use site that makes money from advertising. We have a modified experience for viewers using ad blockers

Wikia is not accessible if you've made further modifications. Remove the custom ad blocker rule(s) and the page will load as expected.