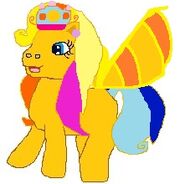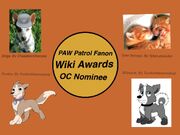 Sunshine Giggles is a drony who is a princess and heiress to the throne of
Harmonia
. She appears in
Wish Upon a Pup
 and
Pups and the Harmonia Rescue
.
Sunshine Giggles, or Sunny, being her nickname, is a drony, which means she's half dragon and half pony. Her mother is a pony named Minty and her father is a dragon named Oracion. Sunny is the oldest of their six children.
In the adventures of Wish Upon a Pup, she aids to help Skye save Milli, and she soon falls for the Eastern prince Kirby, an orange dragon. Later, she met a magic dragonfly named Stella, who becomes her sidekick.
After the adventure, she leads the unity of Harmonia and cleaning up the damage. She and Kirby also got married and were soon going to be crowned as the new and first rulers of all of Harmonia.
Personality
Edit
Sunny loves to giggle and is really sweet and kind. She's always looking out for her younger siblings and loves to make them laugh. However, she is really hard on herself, can't seem to accept how different she is, and blames herself when things go wrong. Luckily, whenever this happens, her siblings make her giggle and feel better. She has the sweetest giggle you've ever heard, if you could only hear her giggle that is.
More of her true personality is revealed in Pups and the Harmonia Rescue. Brave, a bit reckless, looking out for others, taking responsibilities, and very kind.
Abilities
Edit
Sunny has the power of sunlight whenever she opens her wings. Thoughout Wish Upon a Pup, see how Skye, Milli, and Stella help her to control her abilities and amplify their powers.
Appearance
Edit
Sunny has a golden coat and bright blue eyes. She has bright sunshine hair. Her golden dragon wings can shine a bright light whenever she opens them. Her mane is bright gold, canary yellow, orange, and magenta while her tail is blue and light blue. She also has the nose of a dragon.
Ad blocker interference detected!
Wikia is a free-to-use site that makes money from advertising. We have a modified experience for viewers using ad blockers

Wikia is not accessible if you've made further modifications. Remove the custom ad blocker rule(s) and the page will load as expected.