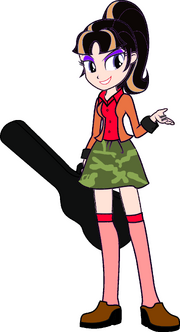 Like a certain hunter we all know and don't love, Samantha Foxworth goes after animals illegally with the help of her cousin and pet coonhound. She is one of the main antagonists of A Tale From The Woods.
Samantha was once the daughter of a wealthy hunter living in the woods of Adventure Bay. Her father once took her hunting in the woods and they encountered a grizzly bear. The bear killed her father, and she ended up running away. When she grew up, she acted like a murderer, killing animals all over the forest with her cousin, Petey, and her pup, Hank.
Appearance
Edit
Samantha is a woman in her mid twenties. She has pale skin, purple eyes, and black hair with strawberry blonde streaks. She wears a copper jacket with a red shirt underneath, a camo skirt, red and light salmon pink knee high socks, and brown and black dress shoes. She also has purple eye shadow and red lipstick.
Voice Actress
Edit
Nicole Kidman (she plays Millicent Clyde in Paddington)
Samantha hates Ryder because of him giving her a ticket for hunting before hunting season begins.
Samantha is most known for her resemblance to a vampire.
Samantha is inspired by Shaw from Open Season.
Ad blocker interference detected!
Wikia is a free-to-use site that makes money from advertising. We have a modified experience for viewers using ad blockers

Wikia is not accessible if you've made further modifications. Remove the custom ad blocker rule(s) and the page will load as expected.