Appearance
Edit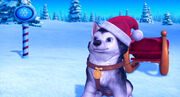 He is a Siberian Husky. He is Black and White Siberian Husky with Blue eyes. He has a Red Sleigh that he Pulls because He's a Sleigh Racing dog. He has a Red Collar with Golden bells on it that Jingles. For his Pup Tag he has a Gold Snowflake and he has a Christmas Hat on his right ear.
Personality
Edit
He is a Hyper and go Lucky Puppy. He loves to Play in the Snow and eat and Catch Snowballs in his mouth. He never Gets mad or Irritated and always stay's happy. He loves Getting Groomed and Washed, But mostly loves to the Cold and Snowballs. He's a Normal dog that doesn't talk, Like a Real life dog. He loves the Holiday Christmas.
TBD
He has a owner named Stacie.
His name was named after a Movie.
He has a Crush on Sparkles
He Lives in Minnesota.
Stacie teaches him how to talk
Stories He appears in:
Edit
Stories by me:
Edit
Stories by others:
Edit
Collabs:
Edit
Ad blocker interference detected!
Wikia is a free-to-use site that makes money from advertising. We have a modified experience for viewers using ad blockers

Wikia is not accessible if you've made further modifications. Remove the custom ad blocker rule(s) and the page will load as expected.