Ruby is a Border collie/Werewolf and the Medic of the PAW Patrol.
Ruby belongs to Chandlerscout, otherwise known as ElsaPAWPatrol on DeviantART. You have to ask before you use her!
Personality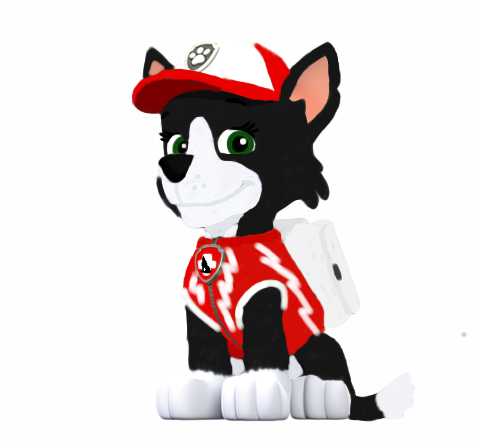 Very shy around pups she doesn't know, but will warm up to them once she knows them better. She likes to hang out with Elsa, Flavannah and Emma a lot.
Bio
After her family was killed by hunters, Ruby was left for dead, but that was when she met Perathius who told her that she wasnt a wolf, but a Border collie and then gave her an enchanted ruby red collar that she wears now to prevent herself from turning into a wolf. When Rocky was captured by a wolf and was injured while trying to escape, Ruby took off her collar and took advantage of the wolf that captured him and set him free. She also tended to his wounds and ended up becoming a PAW Patrol member shortly after.
Appearance
Ruby is a smokey black Border collie with a white muzzle with a stripe stopping between her eyes, a white chest with a dark chocolate brown heart shaped mark on it, tail tip and four white "socks" on all of her paws. She wears her ruby red collar with a red badge with a black wolf with a white cross on it. She has green eyes. In her wolf form, she's jet-black with yellowish-gold eyes.
Outfit and PupPack
Her out it is red with a red and white baseball cap and streaks on her outfit. Her PupPack is completely white.
Tools
Her tools are;
Gauze
Bandages
Cone collar
Cast
Known Family
Anita: Mother (deceased)
Charles: Father (deceased)
Charlie: Brother (deceased)
Amy: Sister (deceased)
Singer: Aunt (deceased)
Rocko: Uncle (deceased)
Tulip: Grandmother (deceased)
Arthur: Grandfather (deceased)
Nyamar: Crush (deceased)
Fanon Appearances
Stories by Me
Icy Cases episodes
Stories by Others
TBD
Crush
She, unfortunately, gave up on finding someone who would love her after Nyamar died. 
Trivia
She's a werewolf
She'll never ever take off her ruby red collar unless it's nescessary
She can be overprotective of her friends and family
She was inspired by Ruby or Red Riding Hood from OUAT 
She, Elsa, Anna, Tundra and Emma are extremley close, like sisters
Her trainee is Raven
Fears
Murder: Mortified of murdering someone in her wolf form, since she knows she'll be put to sleep
Losing her collar: Without it, she blacks out after turning into a wolf and doesn't remember any events of the past night. Usually she has a panic attack before the full moon
Catchphraises
"Arooooooo!" (howling)
"When sirens wail, Ruby's there!"
"I was born on the wild side!"
Voice
Young: Brighton Sharbino (Young Ingrid in OUAT)
Older: Megan Ory (Ruby in OUAT)
Gallery