Randell
Basic information
Name
Nickname
Gender
Male
Age
19
Species
Personality
Current residence
Occupation
Alignment
Physical description
Height
5'10
Weight
218 Lbs
Attire
Light Blue Lel shirt, and Blue Jeans
Personal information
Hobbies/Talents
Bowling
Likes
Being with his friends, Bowling
Dislikes
Relationships
Relatives
Friends
Anya, Chanell, Kelly (SunnyPuppy45's fursona), Crescent (Fursona) Ciara, Mackie, Charlie, Daniel (Who he kind of looks up to as a older brother), and his best friend Daxter
Romantic interest
None because he feels he will be alone forever
Acquaintances
Rivals
Enemies
Other
Theme
Randell is my Fursona and he is based off of me
Smartpup Chase76
Bio
Randell is a somewhat shy pup and won't talk a lot to a whole group of people sometimes, but when with close friends he is a fun pup, but does on certain times will get angry, but will always forgive.
Appearance
Randell is a A tan and white Beagle with a brown streak running down his belly. He also has brown eyes and light blue collar. He also has glasses.
Fun Facts
He is based off how I am in real life
He loves to go bowling and is really good at it, and it calms him when he is stressed ou
He likes making new friends, but not friends with anyone who has upset him before
He is really close friends with Anya, Chanell, Kelly (SunnyPuppy45's fursona), Crescent (Fursona) Ciara, Mackie, Charlie, Daniel (Who he kind of looks up to as a older brother), and his best friend Daxter
He is a Mid-Teenager in the present generation Paw Patrol
Anya calls him and Daxter her "Lel Buddies"
Wears a light blue shirt with "Lel" written on it
Suffers from a strong depression state of mind and most of the time ends up getting caugh in his head and normally ends upset those who he deeply cares about.
He will
never find love in his life
and he will probably be alone for a long time...
Stories he is in
Pups and the Raptor Rampage
Gallery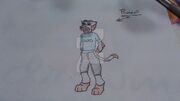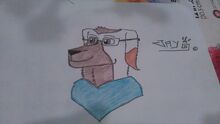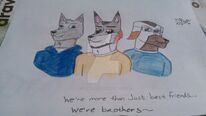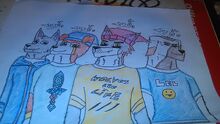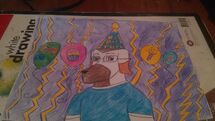 Ad blocker interference detected!
Wikia is a free-to-use site that makes money from advertising. We have a modified experience for viewers using ad blockers

Wikia is not accessible if you've made further modifications. Remove the custom ad blocker rule(s) and the page will load as expected.