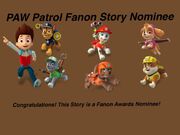 A magical PAW Patrol movie.

A sequel's on it way! click here to learn more.
(click here for some bloopers)
The PAW Patrol visits the Magical World, where TV Characters can visit and hang out together. But when the mysterious and evil Dark Chaos kidnaps (I mean ponynaps) Princess Twilight Sparkle, the pups, along with a few other characters, join her pony pals to rescue her. They soon discover that they are the only ones who can save the world of Cartoons from being destroyed by Dark Chaos!
Characters
Edit
PAW Patrol
Edit
My Little Pony: Friendship is Magic
Edit
Bubble Guppies
Edit
Voice Cast
Edit
(This is just for fun)
Gage Munroe as Marshall
Devan Cohen as Rubble
Tristan Samuel as Chase
Stuart Ralston as Rocky
Alex Thorne as Zuma
Kallan Holley as Skye and Tulip Petals
Jocelyne Loewen as Penelope
Michelle Creber as Lilac, and Apple Bloom
Claire Corlett as Rosie and Sweetie Belle
Ashleigh Ball as Applejack, and Rainbow Dash
Tara Strong as Twilight Sparkle
Andrea Libman as Pinkie Pie, Fluttershy, and Winnie
Tabitha St. Germain as Rarity
Madeleine Peters as Scootaloo
Madeleine Rose Yen as Milli
Juan Mirt as Geo
Donovan Patton as Bot
Nicole Oliver as Majesty, Amy Darling, and Maria
David Lodge as Dark Chaos
(Full list coming soon)
PAW Skills
Edit
Lend a PAW Skills
Edit
Everypony needs help.
Friends make up the Miracles of Friendship.
A true friend helps a friend in need, no matter what the danger.
Whether big or small, anyone can make a difference.
This is a major crossover between 5 different series.
Ad blocker interference detected!
Wikia is a free-to-use site that makes money from advertising. We have a modified experience for viewers using ad blockers

Wikia is not accessible if you've made further modifications. Remove the custom ad blocker rule(s) and the page will load as expected.