Mimi Vannili is a Shiba Inu pup, who is a famous singer. Her name is a spoof on
Milli Vanilli
, a German R&B band.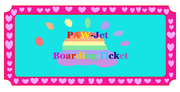 Mimi Vannili, Mimi for short, loves to sing and being on stage. However, she doesn't like all the attention and never gets a chance to be a regular pup. She looks to the PAW Patrol to help her learn how to be a pup and have some fun time.
Personality
Edit
Mimi can get stressed very easily, but she never takes it out on others. Instead, she takes it out on herself. But who can blame her. The life of a Pup-Star can be very stressful.
Ad blocker interference detected!
Wikia is a free-to-use site that makes money from advertising. We have a modified experience for viewers using ad blockers

Wikia is not accessible if you've made further modifications. Remove the custom ad blocker rule(s) and the page will load as expected.