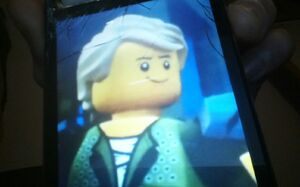 Lloyd 
Character
Lloyd was bad before he came to the ninjas. He stole and was rude to people. When the ninja brought him, he was nice and he helped them.
Llyod was the last pup to get his uniform so far.
Llyod is the 2nd character to have a back round story the first being Kai.
Llyod is the only pup so far to have a color change from green to gold
Appearances.
Ninjago logically lol
Pups and ninjas part 2 3 4
Pups and the great discovery (soon)
Pups tale of the brave pup (soon) when the pups find rockys grandpa he wants to know how it was in the old days and travels back in time with the paw patrol
Pups and the temple of doom (episode not a movie) the pups and ninjas go to a temple
Not in:
Pups vs cats 
Paw patrol:  hero of the pups the famous pup Apollo the super pup visits the paw patrol and they help him
Yes these are remakes of thomas thomas and the great  discovery tale of the brave misty island rescue and hero of the rails also new pup movie also is pups and ninjas go to the Netherlands called pups in Netherland 
Episodes that Lloyd is not in
Pups and ninjas part 1 
Wampwama rescue 
Ad blocker interference detected!
Wikia is a free-to-use site that makes money from advertising. We have a modified experience for viewers using ad blockers

Wikia is not accessible if you've made further modifications. Remove the custom ad blocker rule(s) and the page will load as expected.