Lightning Strike is a
Pikachu
 from the Magical World.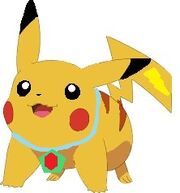 Fanon Appearances
Edit
Lightning Strike is the leader of all the good magic guardians of the Magical World. He knows a lot about the mysterious treasures called the PAWs of Unity.
He also has the ability to see something in the future. But he tells it in ways that take serious thinking and understanding skills.
He has a twin sister named Stardust and a niece named Maragold.
Appearance
Edit
Lightning Strike has a small lighting shaped bolt mark on his tail. He also wears a pendant.
"When the 8 come together, the 9th will come out of its shell and then the unity shall be brought against the one of darkness." -Pups in the Magical World
"Fire is a killer of nature. But... sometimes, what's left from the previous generation will grow up bigger and stronger for the next generation, if given the chance. When a chance is given, a strong magic will sprout out and free all those in danger." -Pups in the Magical World 2
"There is a different between being famous and being a true star. True stars know they can't always have the limelight and know how to share it with others. Sharing the talents of not just yourself but the talents that you and others can do makes you a star that shines so bright, that nothing can turn off the shine. " -Pups Don't Dance
"The universe is full of many different creatures: flyers... , swimmers... , land-walkers... , magical.... ,  and many other creatures that haven't been discovered. You see, Rosie, with all the life surronding you, you're only as alone as you chose to be." -Journey to Sapphire Sea
Ad blocker interference detected!
Wikia is a free-to-use site that makes money from advertising. We have a modified experience for viewers using ad blockers

Wikia is not accessible if you've made further modifications. Remove the custom ad blocker rule(s) and the page will load as expected.