joe is a German shepherd
Edit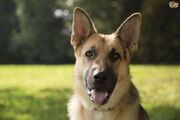 Joe is the second oldest out of his brother bull he as two other brothers. Which are bullet and mikey joes dad and mother are Zeke and dasiy. He loves to hang out with mikey his little brother and loves to play with jet and his friends.
Family/crush:
Edit
Brothers-bullet mikey and bull
Father-Zeke
Mother-delja
Crush-(coming soon near you)
Personality/appearance:
Edit
Joes appearance is a light brown with a dark brown on the sides. Has green eyes. His personality is brave loyal courageous and kind.
Fears/dislikes:
Edit
His fears are thunder snakes and hikes. His dislikes are bullys loud noises and cats
His friends are thrasher mutt and legend
Ad blocker interference detected!
Wikia is a free-to-use site that makes money from advertising. We have a modified experience for viewers using ad blockers

Wikia is not accessible if you've made further modifications. Remove the custom ad blocker rule(s) and the page will load as expected.