She belongs to Sarah the FBI pup and is in Tundra's fanon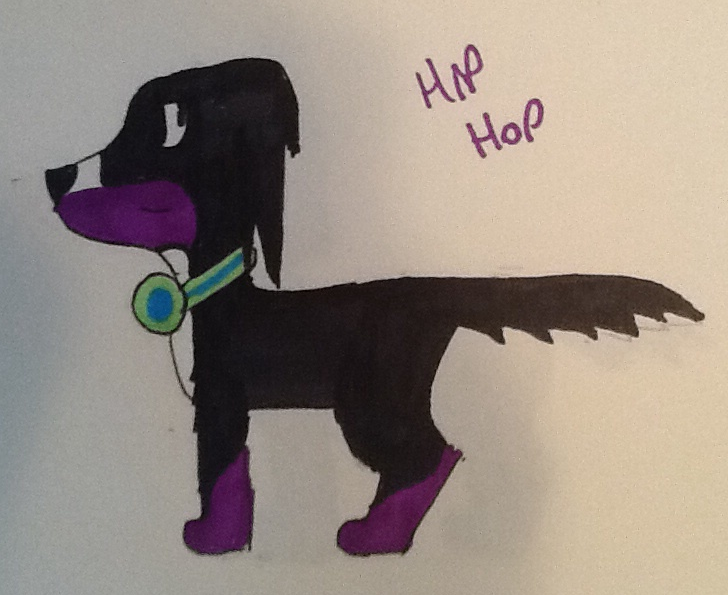 Hiphop is one of the only Collies in the police force. Her partner is Sticks, and they have worked on many cases together. But Hiphop also likes to create Hip hop music which was why she was named Hiphop. She is a 'Goth' and usually speaks in a mono-tone voice except for when she is singing. She can be a bit boring, and it is hard to follow a conversation with her (unless you are Sticks). She is very good in a bad situation and is very illaberate. She is a quick thinker. She is a DJ pup in the paw patrol, but that is a part-time job.
appearance
Edit
she is black with a white nose tip, chest, and neck. Her paws and muzzle are a purple color. She wears green and turquoise headphones.headphones
Appearance
Edit
when on a mission she wears a black collar and a tan paw-band.
her uniform is turquoise with green stripes.
Sierra: mother
Fole: Father
Sticks: mate
Case: son
Jill: daughte
Spitz: best friend
Korea: best friend
Sticks: Best friend/Boy friend.
If you can catch her on rare occasions you will find she can't resist playing with squeaky toys.
She is very protective of her friends and will stand up for them.
She has a crush on Sticks
she has two pups Case and Jill
Abandonment, Tornados, and Disease.
She has created a couple of songs. Here are the titles:
TBA
Stories she appears in
Edit
Ad blocker interference detected!
Wikia is a free-to-use site that makes money from advertising. We have a modified experience for viewers using ad blockers

Wikia is not accessible if you've made further modifications. Remove the custom ad blocker rule(s) and the page will load as expected.