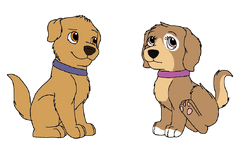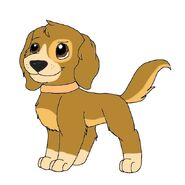 After a while, Cliff and Renee decided to have pups of their own and gave birth to five puppies.
Personalities
Willow:
Addison:
Hunter: He's a energetic boy always bubbly. Though he doesn't telk very much he likes to follow others around and go on adventure's. He's also competatice like his brother Mitch and the two are kinda buttheads but mostly he's sweet and calm and never gets mad.
Jewel: Exactly like her dad she's shy and nervous but sweet and calm like her mom. She always sticks close to her parents or her siblings.
Mitch: He's somewhat the leader of the bunch. He's sweet, adventurous and competative. He will always stand up for his siblings and is mostly nice.
Appearances
Willow:
Addison:
Hunter: He's a mix of his parents fur colours with short floppy ears, orange eyes and a semi thick tail. He has spiky fur on his head and a grey/blue color.
Jewel: She's her moms fur colour with her dads lighter tan markings with, withe toes on her front paws and a white spot around her eye. Sge has fluffy ears pink eyes and a sorta purple color.
Mitch:
Trivia
Random
Crushes
Mitch has a crush on Athena
Gallery