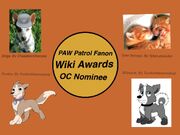 Dixie is one of the CLAW Patrol, the previous protectors of Adventure Bay. They want to destroy it now though. Dixie has dark illusion powers. She is seen in the CLAW Patrol series. Her fur is light brown and her work outfit is Chase's, except her's is dark purple. She is calm and collective. She's usually the one to calm down Zap whenever she is angry or too excited. Both of which are things that Dixie hates seeing.
Dixie's powers:
Ditto Vortex
Illusion Delusion
Wave of Darkness.
Ad blocker interference detected!
Wikia is a free-to-use site that makes money from advertising. We have a modified experience for viewers using ad blockers

Wikia is not accessible if you've made further modifications. Remove the custom ad blocker rule(s) and the page will load as expected.