Coconut is a party pup in
Deaton's Paw Patrol
, and belongs to
Lunar Lex
.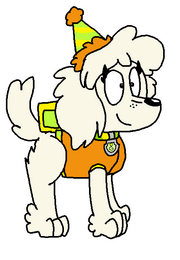 Personality
Edit
Coconut is a very jumpy and playful toy poodle. She is the life of the party, and absolutely adores partying the night away. She's an expert at planning birthday parties, especially for children and other pups. She has a major sweet tooth, and has a tendency to eat a bit too much sweets. So, she has to visit the dentist often, which she hates. Her hyperness can sometimes annoy the other pups.
Coconut was born and raised on a farm with her mother and five older siblings. She didn't really know them that well, because she was given away to a woman with children when she was still very young. All was well for a few days, but then the children turned rowdy. They'd always yank her fur out and get paint and stuff stuck in it. Coconut had the last straw and ran away.
She lived on the streets for a little while, soon revealing her true self; a fun, playful poodle. Later on, she met Deaton's Paw Patrol and they accepted her as their party pup. She may not be an offical member, but she's always there if she's needed.
Appearance
Edit
Coconut is an off-white toy poodle pup with small tufts of fur on her heels. Her ears and the top of her head are especially fluffy, looking like some kind of funky hairdo. Her eyes are brown.
Coconut wears an orange vest with a yellow and lime green striped belt. Her collar also has these yellow and green stripes, and so does her party hat, along with some orange fluff. Her pup-pack is yellow and the flaps on it are green.
Confetti cannon
Claw to put up party decorations
Balloons that come out of the top
Party poppers
She drives an orange party bus with a band running along the side of it that is yellow and green striped.
Coconut has arachnophobia, or a fear of spiders.
Catchphrases
Edit
"Let's go Coco!"
"Let's get this party started Coconut style!"
"It's all about the fun and games!"
"I am Coco for parties!"
After being friends with Fritter for a while, especially while hanging out with him at parties, she discovered she had feelings for him and confessed her love. The two soon start dating in the future.
She is based off of and has the same name as a dog I used to have.
Fritter and Confetii are some of her many good friends.
Her mother's name is Angelique, and her father's name is Pierre.
Ad blocker interference detected!
Wikia is a free-to-use site that makes money from advertising. We have a modified experience for viewers using ad blockers

Wikia is not accessible if you've made further modifications. Remove the custom ad blocker rule(s) and the page will load as expected.