She belongs to Sarah the FBI pup and exists in Tundra's fanon. She is Maranda's adopted daughter.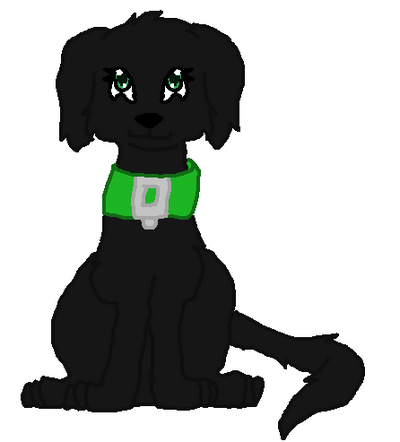 Bianca is very free spirited and independent. She's a bit daring, but doesn't go to far. She loves running around and playing and leads some of the other pups into trouble sometimes. She loves her mother with all her heart and enjoys spending time with her whenever she can. She is very friendly and loving towards other pups, and enjoys making lots of friends
Appearance
Edit
Bianca is a midnight black black lab. Her eyes are a bluish tinged green color. Her collar is a olive green color.
Job/uniform
Edit
TBD
TBD
TBD
Catchphrases
Edit
TBD
She has a crush on Jeremy~ she absolutely adores him
She has a white pet bunny named Nina
She loves steak
She can't resist a game of tug-a-war
She really looks up to Sage
Maranda: mom
Jaque: uncle
Klarissa: aunt
She's close friends with Smiley's pups Lupe, Techno, and Rampage. They get along well and love playing with each other!
She loves making friends, so if you want her to be friends with someone just ask
She is afraid of Thunder and most loud noises. She is also afraid of rats
Voice actors
Edit
Young Bianca: Eva Bella (voice of young Elsa from Frozen) Teen/Adult Bianca: Ashleigh Ball (Voice of Rainbowdash from MLPfim)
Stories she appears in
Edit
What do you like most about this pup?
Ad blocker interference detected!
Wikia is a free-to-use site that makes money from advertising. We have a modified experience for viewers using ad blockers

Wikia is not accessible if you've made further modifications. Remove the custom ad blocker rule(s) and the page will load as expected.