The Australia PAW Patrol is the Paw patrol branch in Australia. The leader is a girl namd Keina. A cousin of Ryder's. She and her PAW Patrol protect Australia.
Sand: She is the Police pup of the group.
Grizzly: He is the Construction pup of the group.
Krio: He is the snow pup of the group.
Salt: She is the water pup of the group.
Karai: she is the Air rescue pup of the group.
Prack: he is the Eco pup of the group
Swiss: She is the fire pup of the group
Wip: Police pup trainee
Jill: Air rescue pup trainee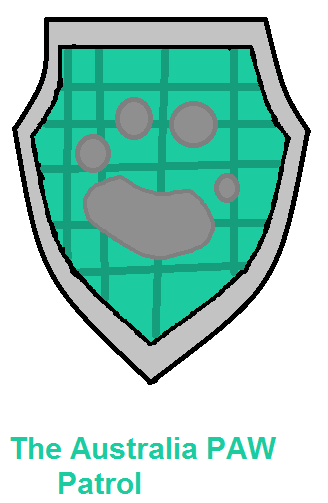 Stories they appear in
Edit
First gen:
Edit
Second gen:
Edit
third gen
Edit
creepy pasta
Edit
Ad blocker interference detected!
Wikia is a free-to-use site that makes money from advertising. We have a modified experience for viewers using ad blockers

Wikia is not accessible if you've made further modifications. Remove the custom ad blocker rule(s) and the page will load as expected.