This character is based on this user. Please DO NOT use this character without permission from the user.
Personality
Edit
Sometimes, Auroraheart101 is a little short-tempered, but she sure is a lot of fun! She loves to play with her cousins and her younger sister. She is inspired by lots of people, and tries to be just like them. Her friends are always by her side, and she just CAN'T stand it when others copy someone's work, especially hers.
Apperance
Edit
Auroraheart101 is black with tan colered paws. Her muzzle is black, surrounded by tan. She usually wears blue or turquoise.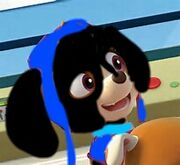 Other Pages
Edit
Ad blocker interference detected!
Wikia is a free-to-use site that makes money from advertising. We have a modified experience for viewers using ad blockers

Wikia is not accessible if you've made further modifications. Remove the custom ad blocker rule(s) and the page will load as expected.