Adam belongs to
Lunar Lex
.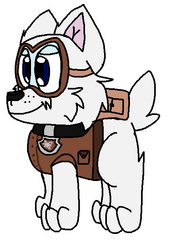 He is a scientist pup, and is mates with Bugsy.
Personality
Edit
Adam is a learned genius, since he used to belong to a scientist. He learned a lot from that experience, and grew up to be the intelligent and cunning scientist pup in the Paw Patrol that he is now. He may be smart, but he is kind of arrogant and can come off as a bit rude at first. But once you get to know him, he's the sweetest pup ever and has an extremely soft side, even if he doubts it whenever he's told he has one. Adam has claustrophobia, and is afraid of small spaces. However, he's okay with the elevator. He also tends to use big words when talking.
As a very young pup, Adam got adopted by a scientist named Mike. He was often carried around with Mike while he was studying, and Adam was very well behaved. Due to this, he learned quite a lot. There is still a bit Adam doesn't know, but he's pretty intelligent. He joined the Paw Patrol by tagging along with them a bit on missions, and letting them know what type of thing everything was and whether it was safe or not. Ryder admired his intelligence and let him join. Adam used to have a crush on Skye, but that was short-lived since he found out Chase liked her too. So, when Adam got to know Bugsy more, he started to have a crush on her. Oddly enough, she liked him back.
In the future, Adam and Bugsy get married, and have two pups named Bitsy and Egbert and adopt one named Alfie.
Appearance
Edit
Adam is an all-white westie with sapphire blue eyes. His paw pads are the same pink color as his ears. His tail is very fluffy as well.
Adam wears brown saftey goggles and a brown buttoned vest with little pockets on each side just for decoration. His pup-pack is a lighter brown than the rest of his uniform. He wears a black collar and his tag has a silver atom on it.
Pipette
Magnigying glass
Mini flashlight (just in case)
Optional gloves
Adam drives a brown pickup truck, only the back has a top on it instead of being open. Inside of the back of his truck are a few other scientific things, like books and chemistry sets.
As mentioned before, Adam has claustrophobia, or a fear of small spaces. If he's in a small space that's not the elevator, he'll freak out.
Catchphrase(s)
Edit
"Adam's got 'em!"
"It's time to show what I know!"
(If you could help me with some, that'd be great!)
Adam was my second Paw Patrol OC, created some time after Bugsy.
Adam hates the taste of bananas.
His best buddy is Sparkle.
His trainee is a Border Collie named Ivan.
His name is a play on the word "atom".
Ad blocker interference detected!
Wikia is a free-to-use site that makes money from advertising. We have a modified experience for viewers using ad blockers

Wikia is not accessible if you've made further modifications. Remove the custom ad blocker rule(s) and the page will load as expected.